Laundry and Ironing services
For your convenience we can do laundry and iron for you. As a special request it
can be prepared during regular cleaning day or the other day specified
by you.
We supply domestic cleaners on a regular weekly and fortnightly basis.
Our cleaners are fully trained and experienced workers. They are fast
and efficient in what they do and they are fully disciplined to provide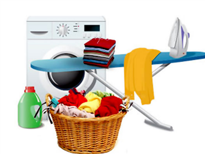 domestic cleaning and ironing. The backgrounds of each one of them is
carefully checked, we only hire reliable and hard working individuals.
Ironing for some people is one of those boring task and they never have time
to do it. You are always worry that load is bigger and bigger week by week.
Don't worry we are here to help. You can book this service separate or with regular domestic cleaning. Our operatives are fully train to iron to perfection.
We ironing anything from shirts, bed sheets, towels, trousers, skirts, t-shirts, table clothes, underwear to socks, or if we missed anything simply leave it on the of the pile and we will iron it too.